General Store Information
battenburglace.com
E Mail: sales@battenburglace.us


Ordered by Phone
(214) 939-2623
You can
Pickup your order
at our Dallas Office.
---
---
Want to order smaller quantities
try our online store
battenburglacestore.com
---
Battenburg Lace Duvet Covers.
Princess Anne Style.
Available size: Queen / Full, Twin
Princess Anne Style
Hand
Sewed

battenburg lace
Duvet Cover

s


Made with white cotton
---
Full / Queen Size,
&
Twin Size only.

---
This duvet cover made with extra lining
for extra protection of the comforter and
and it will shown through from inside.
Or use as a coverlet in Summer Time
(without the comforter)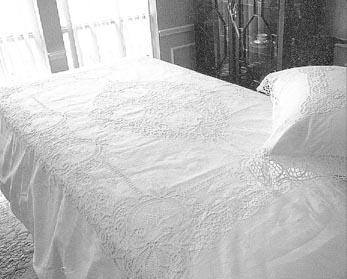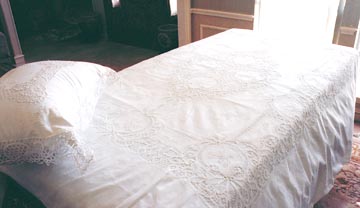 Twin Duvet

s

Twin Duvet

70" x 88"

US$ 128.00 each

Full / Queen Size
Duvet

88" x 88"

US$ 148.00 each
Bed Dust Ruffles

Full

size bed dust-ruffle

54" x 76"x14" drop
(1.37m x 1.93m)

US$ 69.00 each