General Store Information
battenburglace.com
E Mail: sales@battenburglace.us


Ordered by Phone
(214) 939-2623
You can
Pickup your order
at our Dallas Office.
---
---
Want to order smaller quantities
try our online store
battenburglacestore.com
---

Duvet covers and
Bed Dust Ruffles.
Lotus Style Duvet Cover
Lotus Style duvet cover,
hand embroidery duvet covers,
with a beautiful basket design and
with embroidery all around the edges.

All of our duvets are make with
an extra liner between the duvet cover
and the comforters. The extra liner to give you
an extra protection to your comforter.
Made with all cotton.

All of these embroidery are sewed by hands.
(the old fashion ways).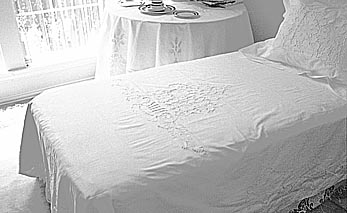 Twin Duvet

Cover

Size

Price

Twin Duvet Cover


(ONLY SIZE AVAILABLE)

70" x 88"

US$ 89.00 each
Bed Dust Ruffles

Size

Price

Twin

size bed

dust ruffle

39" x 76" x 14"drop

US$ 48.00 each

King size bed dust ruffle

78" x 80 x 14" drop

US$ 70.00 each